ITC Maurya Delhi : Enjoy A 5 Star Stay!
14.04.2014 17:38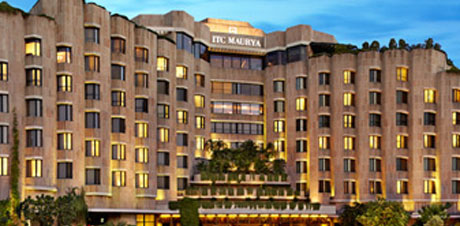 ITC Maurya Delhi | Image Credit : aboutdelhi.org
India's capital city New Delhi has nearly 3000 years of history behind it and is the seat of executive, legislative and judiciary branches of the Government of India. New Delhi is known as the microcosm of India and is one of the world's leading global cities. It is an attractive destination for both business and tourists. A cosmopolitan city where unity in diversity is evident in cultural and social gatherings! Delhi houses memorials of freedom fighters and national leaders of India. This Capital is a mix of the old and the new world.
ITC Maurya Delhi is a 5 star property close to the airport and Secretariat building. This hotel has a spa that offers health services of body treatments, massages, facials and other beauty services. An outdoor pool for a relaxed time in the waters is accessible. An equipped business centre and conference rooms benefit the business clients. There are 7 restaurants and a bar/lounge that serve delicious food and drinks.
The 440 air conditioned rooms at ITC Maurya Delhi feature a pool or city view, mini bar, coffee/tea maker, and comfy beds. They are well furnished and are Wi-Fi enabled, LCD TV, phone and safe is provided. The bathrooms have jetted bathtubs, bathrobes, mirrors and scales. Guests are given complimentary bottled water, welcome amenities and hair dryer. There are 86 luxury rooms well planned, with a living and bedroom area. The Executive Club rooms have modern facilities and complimentary toiletries and are ideal for the business traveller. The Towers are unique and include a boardroom and library bar.
Kommentare